Shares of ARC Minerals Ltd (LON: ARCM) edged 2.61% higher after starting a diamond drilling programme at some of its Zambian license areas.
After analysing last year's exploration drilling programme results, the company started drilling at the Fwiji Target Area ('Fwiji') in north-western Zambia.
ARC Minerals will also be drilling at the Cheyeza and Muswema Target areas, where the company is finalising the identification of the exact drill targets from its airborne geophysical high-resolution survey.
The company's exclusivity agreement with Anglo American lapsed on 9 July 2021, contributing to the latest decline. As a result, the company no longer has a major mining company as its partner on some of its projects.
ARC Minerals reassured investors that it had been approached by other companies interest in similar arrangements following the lapsing of the Anglo American deal. However, the mining company is yet to secure a deal with another company.
Nick von Schirnding, Arc Minerals' Executive Chairman, commented:
"I am very pleased that our drilling programme is underway following extensive work that our geologists have completed over the past six months. As previously disclosed, this year's drilling programme will aim to drill significantly deeper holes to understand better the stratigraphy of the exciting targets we have identified."
The company is also currently in negotiations with third parties interested in its Zambian copper exploration licenses that could lead to the announcement of a commercial translation in the future.
From a technical standpoint, ARC Minerals shares have broken below a crucial support zone and are headed towards the next support level at 3p. Therefore, I would not be opening any new trades at current prices as I prefer to wait until the price bounces off support before buying.
*This is not investment advice.
ARC Minerals share price.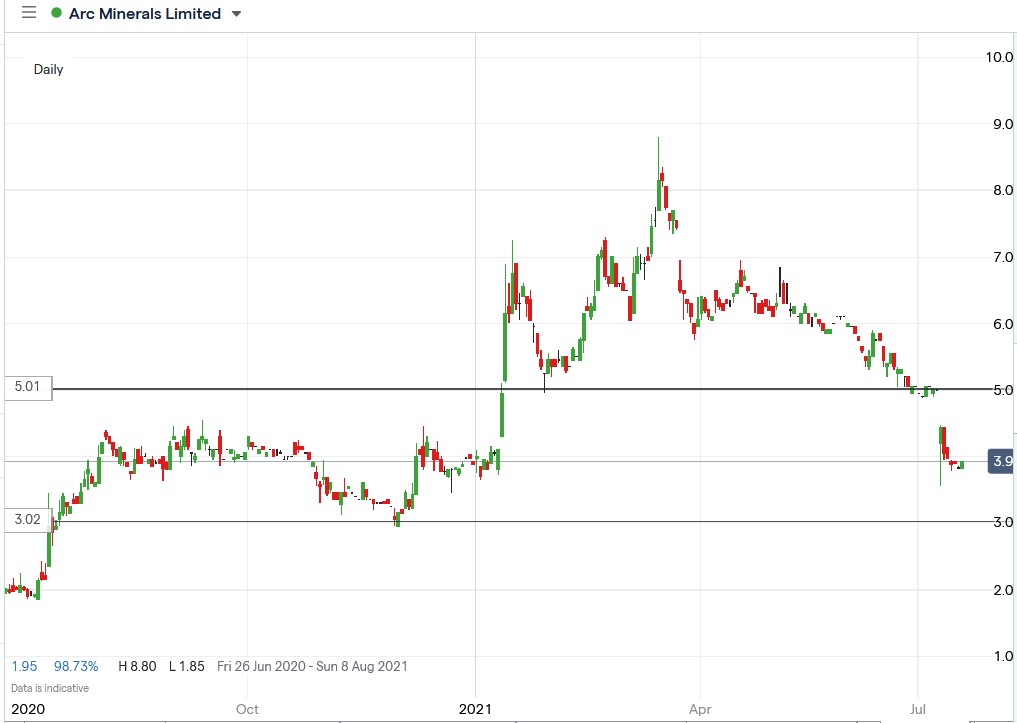 Arc Minerals shares edged 2.61% higher to trade at 3.93p, rising from Friday's closing price of 3.83p.