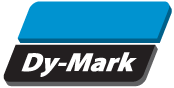 Dy-Mark began operations in Adelaide in 1964, primarily producing printing, coding and stencilling inks as well as aerosol marking paints for Government Departments and Councils.  Since then our rapid growth and demand for our products required us to move to larger manufacturing facilities which are now based in Brisbane, Australia.
For over 50 years Dy-Mark has continued to be a leading force in the innovative manufacture and distribution of top quality specialised marking paints and coatings. Our rigorous product development and testing programmes have grown our product ranges extensively to now include: marking aerosol/bulk paints, inks and dyes, industrial markers and stencilling products, protective and decorative coatings, cleaners and solvents, industrial packaging products.
Dy-Mark takes pride in building close relationships within the Forestry, Construction and Mining industries as well as numerous industrial and hardware buying organisations throughout the world.
As our product portfolio expands, so doe