PowerBully presents new vehicle generation
Laupheim, 2022-07-13. On time for bauma in October of 2022, Kässbohrer
Geländefahrzeug AG is presenting a new generation of highly mobile all-terrain tracked
vehicles for use in the construction industry. The new models are optionally available
as a mobile platform for tools or as a dump truck. They enable you to transport large
quantities of material or tools over ground that is muddy, soft and hard to negotiate.
Overview of the new models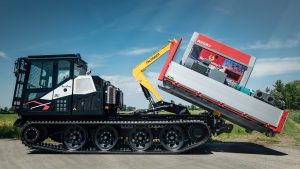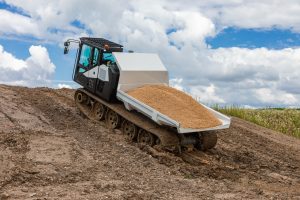 The new generation includes two vehicle models with a payload of up to 9.0 metric tons in
Series 9 and two vehicle models with a payload of up to 13.2 metric tons in Series 12. Each
model is available as a mobile platform for attachment of various tools or is equipped with a
factory installed dump body.
Implement carrier platform Dump truck
Series 9 PowerBully 9C
Payload: 9.0 metric tons
PowerBully 9D
Payload: 7.5 metric tons
Series 12 PowerBully 12C
Payload 13.2 metric tons
PowerBully 12D
Payload: 11.5 metric tons
Powerful drive, high off-road capability
All models are equipped with a 6-cylinder Cummins engine with 235 or 285 metric HP and a
hydrostatic propulsion drive. The rear-wheel drive provides for a high degree of traction and a
maximum driving speed of 14.5 km/h. With a slope angle of 45°, it is even possible to drive on
uneven ground and to cross trenches.
The endless rubber tracks with a width of 750 mm offer a large contact surface. This results
in low ground pressure: at only 0.19 kg/cm², this is many times lower than for wheeled
vehicles. This is how it is possible to drive on soil with a low bearing capacity. In addition, the
low ground pressure reduces the effects on the ground to a minimum.
Thanks to the wading depth of more than 1.20 m, PowerBully can also drive through swampy
or flooded areas without any difficulty. PowerBully makes it possible to work all year round –
regardless of the weather conditions.

The PowerBully models have standardized mechanical, hydraulic and electrical interfaces.
These make it easier to attach a wide variety of tools such as cranes, drills and roll-off tippers.
With the PowerBully 9D and PowerBully 12D, Kässbohrer is debuting two vehicles equipped
with a factory installed dump body. The capacity of 5 m³ or 6.9 m³ and high payload enable
the highly mobile all-terrain dump truck to transport large quantities of earth, bulk solids or
other material.
Safety and comfort
The cab is ROPS/FOPS-certified and ensures safety during use in conjunction with a large
field of view and additional 360° camera. The suspended cab and ergonomic arrangement of
the control elements guarantee comfort for the operator and fatigue-free work. The large
running wheels provide for a high degree of smoothness when moving over uneven ground.
All PowerBully models are the only track-driven all-terrain vehicles equipped with telemetry.
This enables remote diagnostics during servicing and thus helps make the vehicles quickly
ready to use again.
Presentation at bauma
The official presentation of the new PowerBully vehicle generation will take place at bauma
2022 in Munich. The world's leading trade show with a focus on promising technology offers
the ideal setting for presentation of the highly mobile all-terrain tracked vehicles. The number
of extreme weather events is constantly on the rise, and they frequently result in construction
sites being practically impassable. Track-driven all terrain vehicles reduce the risk of downtime
and increase the operating safety.
Visit PowerBully at bauma 2022 at Booth 926/3 on the north open-air grounds and see for
yourself what the highly mobile all-terrain tracked vehicles can do for your construction
projects