SmithCo mine trailers have been used in the mining industry for many years because of their superior stability, faster cycle times, and easier unloading capabilities. Today, SmithCo mine trailers are hauling gold ore, coal, iron ore, copper concentrate, and bauxite in locations across the globe.
Mine Trailer Design
Our mine trailers are custom designed and built for specific applications, depending on the customer need. The tubs are sized to maximize payload, which is one reason mine trailers are much larger than any other kind of trailer we produce. We find our mine trailers are predominately used in off-road applications and can achieve payloads of up to 100 tons per trailer. For even larger hauls, Mine Tipper trailers can be trained together to carry up to 200 tons per train, maximizing efficiencies and payloads.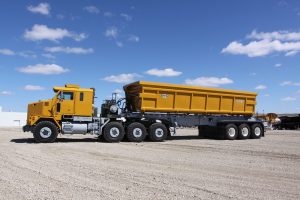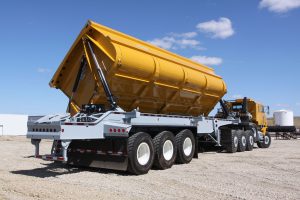 SmithCo's mine trailers are engineered for the toughest jobs and harshest environments. In our world-class manufacturing facility, they are built to last using cutting-edge technology and the expertise of our highly trained staff.
Meeting the Challenges of Mining
One of the biggest challenges that mining companies face is figuring out how to transport deposits that are more than five kilometers from the processing location. Traditional haul trucks do a great job of taking material out of the mine to the processing facility, but when this distance becomes more than five kilometers, they become inefficient and ineffective. This is where the SmithCo Mine Tipper Series trailers shine.
Mining companies that use SmithCo Mine Tipper trailers can haul their materials to the processing facility at a much lower cost than if they used a standard haul truck. In addition, the cost of developing and maintaining the haul road is greatly reduced. Mining regulations dictate that a haul road be four times the width of the largest vehicle using the road. The use of SmithCo Mine Tipper trailers reduces this cost because the footprint of our trailers is significantly less than a haul truck. Our mine trailers make opening satellite mines more feasible for this reason.
Customer Support
We put a huge amount of support into each one of our Mine Tipper trailer sales, because we take customer service very seriously. We are the side dump experts. We know what will work and what won't.
We understand that the mining industry demands support after the sale as well. SmithCo has demonstrated the ability and commitment to be there when our customers need help. Unlike other manufacturers, when you call SmithCo, you will talk to someone. We don't let calls go to voice mail. If the person you need to speak to isn't available, we will take your information and you will receive a return call.
SmithCo mine trailers are changing the way that mines operate by providing custom solutions that simply can't be achieved with traditional haul trucks. With superior stability, faster cycle times and easier unloading, side dumps trailers are an ideal choice for hauling nearly any material