Phillystran, a WireCo Worldgroup company, announces the X-Tremaloop fiber rope softline link where the speed and strength of connection is matched by improved safety and ease of handling in heavy duty mining environments. Typical applications include towing lines for mining trucks and equipment pulling lines.
X-Tremaloop connection is the first synthetic rope where the soft eyes can open and close. It uses a simple knot/eye connection enabling single hand use. The opening and closing of connection hardware or even the hardware itself can be eliminated when using the X-Tremaloop.
Made from a twelve-strand X-Tremaline (high modulus polyethylene) rope, X-Tremaloop has an unmatched weight-to-strength ratio. Compared to a steel wire sling of the same length and capacity, X-Tremaloop will match the breaking strength at only 15% of the weight. With the X-Tremaloop, a quick connection can be made without the need to open heavy hardware such as a shackle or a pin in a truck. In fact, feeding the X-Tremaloop through any smooth strongpoint with a D/d ratio >1 will complete the connection.
In surface and deep mining operations tow lines and winch lines or almost any man-handled wire rope application where reduced weight and speed of connection will benefit from this lightweight solution. "Strength with simplicity of connection are the X-Tremaloop's key advantages over other connection methods," says Mark Pieter Frolich, commercial director, Phillystran and Lankhorst Ropes, USA. "Whether it's towing a truck or connecting two winch lines, the X-Tremaloop sets a new standard for ease of rope connections in the mining industry."
Standard X-Tremaloop connections are available in 6, 9 & 12 ft lengths and in the W.L.L. range of 5 to 90 metric tonne or 11,000 lb to 143,000 lb strength capacity. Larger available on request.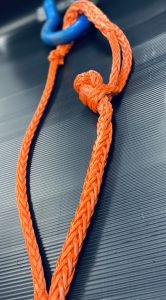 For more information on the X-Tremaloop connection, visit www.phillystran.com
– ends –
Editor's Note
About Phillystran
Phillystran is a leading developer and manufacturer of high performance, synthetic fiber ropes for marine, utility, broadcast and military applications, including mooring lines, life lines and winch lines, boat rigging, structural support lines, power cables, broadcast tower guy cables and Seismic Cables. Phillystran is also part of one of the world's largest steel wire rope manufacturer, WireCo® WorldGroup.
Based in Philadelphia, United States, Phillystran has led the development of synthetic ropes for applications previously performed by steel wire ropes, with significant performance and business benefits. In addition to offering to the industry the widest range of high performance yarns, Phillystran is a leader in rope construction and engineering. Its proprietary four strand, wire lay construction offers outstanding levels of abrasion resistance and service life.
For more information visit www.phillystran.com.
About WireCo® WorldGroup
WireCo® WorldGroup manufactures and sells value-added products under several brands that are recognized throughout the world and used in a wide range of market applications. WireCo® WorldGroup is headquartered in Prairie Village, Kansas with manufacturing plants, distribution facilities and research and development centers worldwide.
For more information: www.wireco.com.
For media enquiries, please contact David Owen, Agenda PR, on email: davidowen@agendapr.com.