Southern African miners can now test Steinert sorting machine locally
Magnetic and sensor sorting solutions company Steinert has set up a new testing plant at Navachab gold mine, near Karibib, in Namibia – owned by private equity firm QKR. The test facility is available for testing in beneficiation and preconcentration processes.
How come that a Steinert customer opens the door to support other potential Steinert customers in Africa and gave green light for a test facility at his plant? Hildebrand Wilhelm, ore processing manager for QKR Namibia Navachab operations with 34 years experience in the mining industry states, that the capability and satisfactory results and the good relationships with Steinert made him do so.
QKR Namibia and Steinert technology open new path together
When cost margins were eating away the mine's profits, Wilhelm and his team at Navachab gold mine started to employ a new technology in mining: sensor-based ore sorting should upgrade the gold grade and remove useless material that will not burden on the following processes and should result in cost savings. That was six years ago.
Since 2016 two STEINERT XSS-T X-ray transmission bulk sorting systems are installed in a 200tph production plant to upgrade the low grade stockpile material. "What has amazed us is, that the machine is very robust. We are getting a good reliability on the units and 80-90% running time is absolutely possible", Wilhelm says. "I think it is a challenge to pursue new technologies in a very conservative mining environment. It is very important that you are confident of the people that you work with." Navachab gold mine took risk and learned that with Steinert's capabilities it was possible to innovate in the mining industry, and was able to cut processing costs. "We have set up the plants such that we get about a 25% mass-pull to concentrate and we get an average of 70% gold recovery with this kind of set up – that makes sense to us. That is a profitable operation. We treat the material to the XRT machines and in general we double the grade of our input material and that is where the value is generated because then with the doubled grade the material can be profitably treated by the processes that come after that."
Local Steinert people at test facility in Africa
Wilhelm says from experience: "The Steinert team in Namibia is a team I have known for a very long time. I am very aware of their capabilities and they have been willing to help."
Located in Namibia and onsite, John Knouwds, Steinert's area sales manager for Southern Africa, is happy to assist miners who would like to test what sorting can do for their processes in the on-site test plant (john.knouwds@steinert.de). Knouwds says, that he is convinced that not only other miners but also the environment can benefit with the possibility of complete dry beneficiation from the technology – "preconcentration saves a lot of energy, water and thus money because one downstream equipment only processes material with valuable minerals." The set up at the Navachab plant will enable Steinert to continue testing for various mines and processing projects throughout Southern Africa. The Navachab plant itself will be capable of conducting feasibility or sighter tests, which are a way to analyse the sensors' ability to classify mineralised and non-mineralised material, as well as the efficiency of a theoretical separation. The test plant will provide tangible data of improved and sustainable production expectations for investors, and improve economic insights to better determine the opportunities associated with investments.
The new on-site testing plant is a STEINERT KSS | XT CLI
It is a combination unit, capable of handling a throughput of between 5 t/h and 100 t/h with a 1 m working width. The unit includes an X-ray transmission sensor (XT) to identify atomic densities, two optical sensors – a colour sensor (C) and a laser sensor for 3D shape information (L) – and an induction sensor (I) that detects metals. The unit was developed as a response to increasingly complex requirements in material separation. "Steinert's technology has taken a leap forward by offering multiple sensors on a single platform. This allows for higher classification abilities, higher processing capacities, higher recoveries and improved grades," Knouwds explains. "Having the correct combination of sensors opens up further possibilities to clean up generated products beyond the extent originally required or to add sorting stages previously assessed as not feasible." Specially developed Steinert software also allows for the design of new detection-algorithms, which can be implemented as needed to cope with new challenges.
Images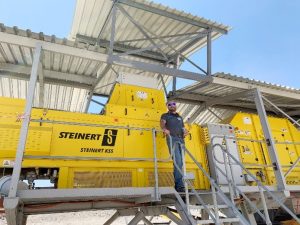 Steinert's Southern Africa area manager John Knouwds welcomes customers at the new test facility in Namibia.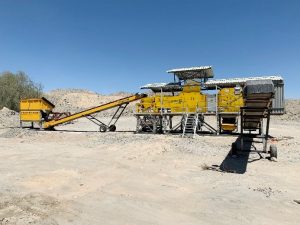 Ready for customer test work:
STEINERT KSS | XT CLI sensor sorter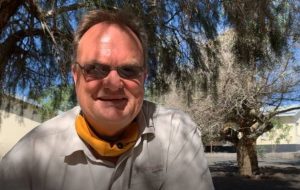 Hildebrand Wilhelm, Ore processing manager at Navachab (QKR)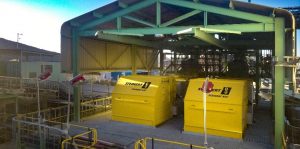 Next door to the test facility, QKR preconcentrates gold ores with X-ray transmission STEINERT XSS-T since 2016.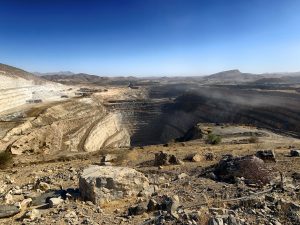 Navachab open pit gold mine
About STEINERT
The history of STEINERT dates back 130 years: The family-owned, Cologne-based business is one of the world's leading experts in sensor sorting and magnetic separation for waste and metal recycling as well as mining. With 340 employees, STEINERT generates an annual turnover of approximately EUR 100 million. In addition to 50 sales partnerships and joint ventures across the globe, the company has subsidiaries in Germany, Australia, Brazil and the USA.