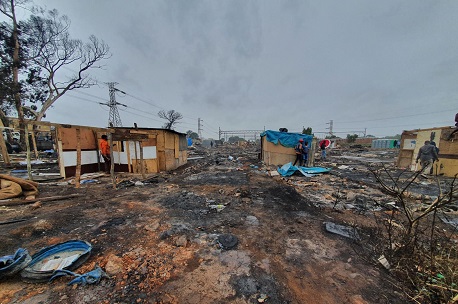 Residents of Joburg living in informal settlements have been advised not to leave candles or braziers unattended, as these are the main course of shack fires during the winter season.
The City's Emergency Management Services (EMS) aims to raise awareness about fire safety and reinforce adequate measures for evacuating burning structures, through its annual "Stay-Alive-Until-We-Arrive" programme. The overarching goal is to assist residents of informal dwellings to avert the dangers of a fire outbreak.
The EMS has trained about 40 community members from Drieziek Ext 3, south of Joburg in basic firefighting and first aid administration to enable them to prevent the occurrence of avoidable shack fires within their community. Residents who attended the training have received a certificate of course completion and a safety bucket containing a smoke detector, a first aid kit to treat minor burns, and a mini fire-extinguisher.
The City usually experiences an increase in fire-related injuries during the winter season, particularly in informal settlements, and is advising shack dwellers to use only regulated and South African Bureau of Standards (SABS) approved heating appliances to avoid unexpected explosions.
The EMS responded to approximately 445 fire incidents in informal settlements last year. Although no lives were lost in these incidents, the City urges increased caution when dealing with fire.
Two children were killed in a shack fire in Drieziek recently after an unattended candle tripped and ignited a raging blaze.
The member of the Mayoral Committee (MMC) for Public Safety, councillor David Tembe, says the fire incident in Drieziek has prompted the City to intensify proactive safety measures to reduce incidents of this nature.
"The number of fire incidents reported during this winter already is concerning and if left unmanaged can lead to unnecessary deaths and loss of property. These unforeseen circumstances can, however, be prevented if people use proper cooking and heating devices," Cllr Tembe says.
Every winter, the municipality conducts fire safety awareness campaigns in informal settlements and public schools to provide residents with the knowledge they need to avoid the dangers of raging shack fires.
Tshepo Makola, the Executive Head of EMS, says shack fires are preventable if people use proper cooking and lighting equipment and know-how to identify fire risks in their households.
"Our job is to educate vulnerable communities on how to ensure safety on all things that present potential fire hazards. The target is to train everyone in the City about fire safety," Makola says.
Cooking equipment such as prime stoves that are not SABS approved; confined spaces with no electricity; braziers with highly flammable materials for cooking; and candles that are not placed on proper holders to prevent them from falling are some of the risk factors that lead to shack fires in Johannesburg.
MMC Tembe says the City will continue investing in educating vulnerable communities about the prevention of shack fires.
"Our strategic objective is to provide community awareness of the dangers of unattended fires. We also want to empower communities about the mitigation of such disasters," he says.
While community members are being equipped for fire emergencies, there are still concerns that as the coldest season of the year settles, people living in informal settlements are still prone to fire disasters because of the use of unsafe heating apparatuses.
"Our mandate is to keep the public safe, irrespective of where you come from. It is non-negotiable and one of the priorities of our multiparty government is the creation of a safer City," Tembe says.