Productivity, safety, and sustainability are central to the future of mining technology. For an underground specialist Normet, these are the company's strengths, as it continues to drive innovation to lead the industry forward.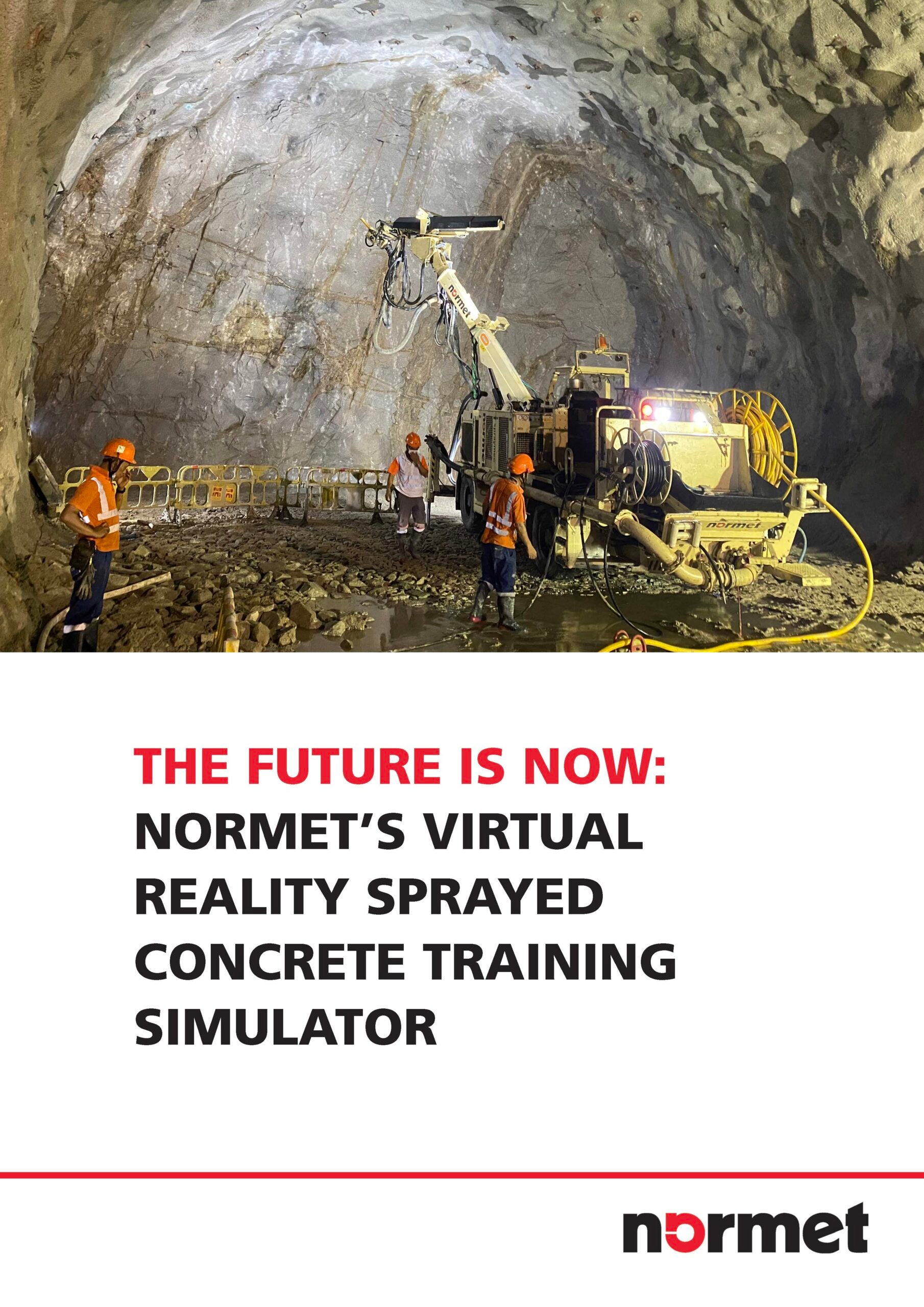 The Future is Now: Normet's Virtual Reality Sprayed Concrete Training Simulator
From providing digital solutions, to supporting customers to ensure that they get the most out of their equipment, here are just a few of ways that Normet is supporting mining innovation across the globe.
Smart shotcrete technology
Concrete spraying has become a key part of effective underground rock support systems. Normet offers a complete end-to-end range of equipment, construction chemicals and services, including its innovative SmartScan technology, to automate the shotcrete application process.
Normet's concrete spraying equipment and SmartSpray technology ensures that the job is done with minimal waste, and that application and repairs are completed effectively and evenly by calculating and monitoring the thickness of sprayed concrete.
In addition to providing the spray arm equipment and smart technology, Normet is a specialist in concrete mix design, supplying admixtures and accelerators, technical advice, extensive support, and operator training.
Supporting digitalisation
Digitalisation in mines, from data collection to data transfer and data analysis, is key to improving productivity. Despite the mining industry being slower than others to fully embrace new technological processes, digitalised open platform systems have been developed to implement Internet of Things (IoT) technology and Big Data analysis, as well as aid the use of automated vehicles and equipment, all with positive results for operational efficiency and keeping workers safe.
Normet, for example, has developed SmartWeb, which is designed to improve connectivity, maximise fleet usage, and optimise maintenance and service planning. SmartWeb can be integrated with mining equipment such as concrete spraying (which can utilise Normet's SmartSpray and SmartScan), explosives charging, scaling, and underground electric vehicles.
Electric vehicle fleets
As below surface operations tunnel deeper into the earth, underground vehicles need more power — a hefty strain to put on diesel vehicles. Many countries are increasingly placing restrictions on diesel particulate output, from enforcing the use of commercial electric vehicles to placing penalties on greenhouse gas emissions, so an alternative source of energy is needed to keep underground vehicles moving.
Battery electric vehicles (BEV) produce far fewer damaging emissions and use less energy, with a range of additional features that benefit not only an operation's carbon footprint, but a company's bottom line. BEVs provide safe operation in all underground situations, including downhill, level and uphill tramming, and also eliminate the need for many low-efficiency, maintenance-heavy components such as the gearbox and dropbox. Lower emissions and less heat generation also means that with BEVs, there is less demand on ventilation systems.
Normet's SmartDrive battery electric vehicle fleet features long-life industrial grade Lithium-Ion battery technology alongside fast charging capability and electric motors. Specially designed for harsh environments, the equipment covers all major machines in the mining and tunnelling portfolio.
Innovation in automation
Automation in the mining industry has improved productivity and safety. Looking ahead, there will be more digital tools at play to improve this even further. The possibilities for connectivity are increasing, meaning more opportunities to remove workers from dangerous areas of the mine by automating processes or making it possible to work from a safe location, such as providing diagnostics data without inspecting machinery in person.
From drilling to sprayed concrete, automation can take repetitive jobs that require precision and make it simpler, safer, and more consistent. This means workers can better utilise their skills in other areas or continue to assist automated operations by using remotely operated machinery. For example, with sprayed concrete, Normet's SmartScan can calculate and automate the thickness of shotcrete to maximise efficiency and reduce waste.